Loans
Benefits of Taking Out a Loan
Whether you're looking to borrow to help with your household expenses or for a larger purchase, we have the right personal loan to suit you. We've made it easy to borrow as little as £100 or up to £30,000 at a fair, affordable rate with no application fees and no early repayment charges.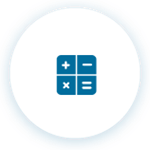 We calculate your interest on a reducing loan balance
We don't charge arrangement fees
We don't penalise you if you want to pay your loan off early.
We offer life insurance on loans
To give you peace of mind we insure your loan in the event of your death,at no cost to you, up to your 80th birthday subject to terms and conditions. This contrasts with banks and building societies who charge their customers hefty sums to offer exactly the same facility.
Loan Calculator
This calculator is for illustrative purposes only, to give you, the borrower, an overview of the potential cost of borrowing. The Credit Union, or any of its staff, cannot be held responsible for any errors. Please note that this calculator only provides an indicative quote and actual repayments may vary.
Additional information
Unsecured loan: apr rate, examples of other lenders
Loans are calculated at a rate of 12%.
Loan assessment
The majority of loan applications can be approved by our fully trained loans officers and you will receive an immediate decision.
However if it's your first loan, if it's for a particularly large sum of money or there are concerns about how the account is being maintained, then the application will be referred to Credit Committee.
Credit Committee
Credit Committee is made up of a group of volunteers who meet every Tuesday night to discuss loan applications.
Each of them have many years of Credit Union experience and in making their decisions they take into consideration whether by granting you a loan are they helping you, or simply getting you into a financial situation you can't afford
They also have a responsibility to other Members of the Credit Union to ensure money lent is likely to be repaid. After all money that you borrow belongs to Members of the Credit Union, therefore, if it is not repaid it is other Members who suffer.
Repaying your loan: promissory note, change circumstances
Whenever you take a loan you sign a promissory note (a legally binding document) agreeing to pay off your loan within a specified period of time.

The maximum period for most loans is 5 years, however some special rate loans such as our Christmas loans have to be completed within a 12 month period.

We always recommend that Members complete their loan as quickly as possible in order to minimize the amount of interest they pay.
Change of Circumstances
Portaferry Credit Union considers itself to be an understanding lender, so if your circumstances change and you experience difficulties meeting your agreed repayments, it's very important that you contact our office to discuss your situation.
If you don't contact us and you either stop making payments on your account, or you pay less than the agreed amount, we will assume not that you can't make repayments, but that you won't. That being the case we are obliged to pursue the outstanding monies on behalf of the other Members of Portaferry Credit Union.
Guarantor information
A guarantor is a person that guarantees that a loan will be paid. Usually, this person agrees to pay another person's debt if he or she should fail to do so himself or herself. The term is most commonly used in reference to financial assistance.